If you are looking to lose weight and flaunt that sexy body, numerous weight loss options come into mind. You can think of working out at the gym, following a healthy diet, using available weight loss products, or doing all three.
Should you choose to combine all three, you need a fitness companion that can help you burn calories while working out. Luckily, there is a product called a "waist cincher" that you can rely on. You can find a bunch of these products online, but the important question is, "How can you make sure that this product will produce amazing results for you?"
With all the waist cinchers that you can find on the market, it is indeed tough to make the right decision for the ideal product for your specific needs. But don't worry, because you can count on the following considerations to ensure you arrive at the best decision.
What is your purpose in using a waist cincher? Do you need a gym companion? Then, what you need is a body-shaper with compression. It provides heat to your midsection, and works out your abs thoroughly. But if you are serious in toning your body, you may opt for a well-structured corset. It is made of steel boning and sturdy materials that can help you achieve a firm body. If your purpose is to correct your posture and ease body pain, you must go with a body slimmer, as it provides proper support to your back and fortifies your core.
What is the shape of the waist trainer that suits you? Depending on your personal preference, you can opt for an overbust or underbust corset. If you want a waist cincher that can be matched with any type of clothing, you can choose a strapless underbust waist trainer. Meanwhile, the overbust brocade corsets serve as a separate piece of garment that you can wear over your clothes.
How does the waist trainer wrap around your body? Most latex-based waist trainers make use of the compression of the material itself. Some use hook-and-eye closures, zippers, and metal clips for flexible strapping; while many corsets utilize laces to tighten the waist trainer.
What is the type of boning used? Spiral steel boning is recommended if you prefer to wear durable and versatile waist cinchers. If you are looking for a cheaper alternative, you can go for plastic boning; it's also effective, but loses its shape faster than other waist cinchers made of other types of boning.
To sum it up, you should choose a waist trainer that works well with your body shape, and the needs of your body. To help you decide which waist trainer to choose, here are some of the most notable waist cinchers in the market:
Eleady Women's Underbust Corset Waist Trainer Cincher
Eleady Women's Underbust Corset Waist Trainer Cincher is one of those waist cinchers that offer adequate comfort, while at the same time producing positive results. If you are looking for an all-around waist cincher, it is one of the top options.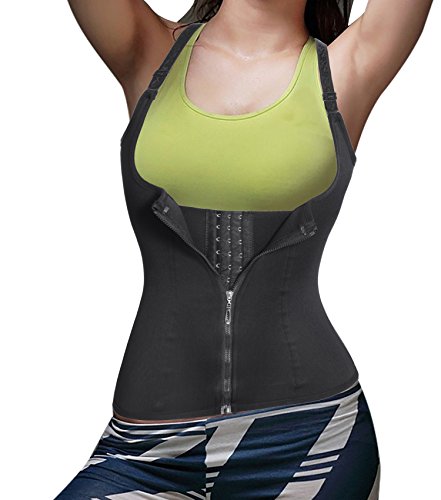 Features
Its features are really enticing, and you will have a hard time saying "no" to it.
Its composition is 90% Polyester and 10% Spandex.
It has an easy-to-pull zipper that is durable, and can withstand frequent pulling in and pulling out.
It has a thermal vest that produces more sweat as you wear it.
With its U-type Anti-droop Breast design, your breast is pushed upward.
With its hook-and-eye closures, it is ensured that your vest fits well to your body shape.
Pros
Since it offers enticing features that are hard to resist, its advantages are unsurprisingly promising as well. It is also loved by a lot of women who want to achieve nice body contours.
Easy to clean and use.
Classy and elegant design that will inspire you to work out more.
It reduces a few inches from your waistline, and contours your body.
It decreases bulges and bumps, making you feel confident wearing any type of dress.
Cons
It is true that this product is quite beneficial to women wanting to shape up their bodies, but just like other products, it also has some disadvantages.
It is pricier than other waist trainers.
It does not offer proper support to your spine.
It bulges when you wear it.
Summary
It is a promising product that you can truly depend on, given its amazing features and credible advantages. Yet you also have to ask yourself if you are willing to pay the price in exchange of the wonderful results it promises.
Read the Full Review      Buy Now on Amazon
MIRANCO New Women Neoprene Shapewear
If what you're looking for is a shapewear garment that can give you a whole body contour, this product is the right fit for you. Unlike other waist cinchers that just trim down a few inches from your waistline; this product works double time to give you the body shape you have been dreaming of.
Features
Its features are adored by many women. Find out why.
It is composed of 70% Neoprene, 15% Polyester and 15% Nylon that helps in faster absorption of sweat.
It is made of an elastic outer material that absorbs sweat and moisture.
It is a comfortable shapewear garment.
It is lightweight, so your movements are not limited.
It looks elegant without a zipper on it.
It consists of compression and scientific design technology that helps in correcting posture.
Pros
It also comes with lots of advantages.
It consists of a thermal vest that increases sweat 3 times more than other similar weight loss products.
It is comfortable to wear.
It provides visible results immediately.
It hides bulges, rolls and bumps that allow you to look slimmer.
It helps you achieve a flat tummy.
It does not simply burn fats; it also washes away toxins.
It comes in an elegant design which you can pair with all types of outfits for working out.
It dries faster than other shapewear garments.
Cons
It is quite a good product, but is not without any drawbacks.
Its odor may come too strong for others, because it is made of 70% neoprene; though the smell dissipates right after washing and drying it.
Its elasticity may be reduced if there's exposure to direct sunlight.
Summary
This product obviously comes with helpful advantages that can help you achieve your dream body quickly. If you want a thoroughly contoured body, this should be one of your top options.
Read the Full Review      Buy Now on Amazon
Waist Trainer Corset Cincher
This is another product that promises amazing comfort while you work hard to achieve your fitness goals. Waist Trainer Corset Cincher does not want you to be burdened with uncomfortable shapewear garment, that's why it has features that are truly wonderful.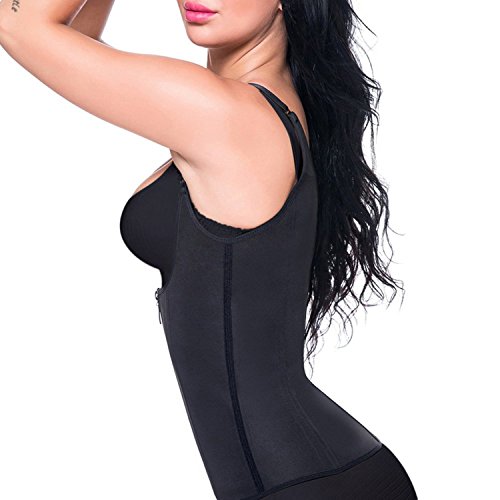 Features
These features are the ones that will get your attention right away.
It is made of breathable and sturdy materials, such as the following: 90% Polyester and 10% Spandex.
It has an easy-to-open feature, because of its outer part that contains a hook on its upper portion.
It has adjustable straps, open-bust design, and hook and eye closures.
It has a thermal belt that upturns body heat.
It allows breasts to be pushed upward with its U-type Anti-droop breast design.
It is recommended for women who have just given birth, who want to lose pounds and shape up again.
Its design is beautiful, making you want to show it off.
It has an easy to use and clean feature.
Pros
There's no denying that women are fond of this product, so we enumerated some of its advantages.
Its adjustable feature allows you to make it tighter or looser.
It helps you get rid of sagging fats from your armpits and back.
It has a U-type Anti-droop breast design that pushes breasts upward.
It has an easy-to-pull zipper which can also be concealed to give you a slimmer look.
It hides fats on your waist, and reduces 2 inches with the use of a thermal belt.
It offers proper support for your abdomen and back.
It flattens your tummy.
It gets rids of excess sweat, leaving you dry on the outside.
Its cost is a bit lower than other waist trainer corsets.
Cons
This product is almost perfect, except for one very minor drawback. Some customers complain that its sizes are not quite accurate.
Summary
With its numerous advantages and one very little disadvantage, you absolutely cannot go wrong with this product. Its features and advantages can explain how noteworthy this product is.
Read the Full Review      Buy Now on Amazon
VENUZOR Waist Trainer Belt for Women
This product helps you make your fitness journey easier. Just like other waist cinchers mentioned above, it also promises great comfort and instant results as you use it—as evidenced by the features mentioned below.
Features
These features will definitely make working out a lot easier.
It has a belt tummy band body shaper that provides flexible compression around the stomach and the abdomen.
It consists of adjustable velcro closure waistband that also helps in strengthening the compression around your tummy; it also helps in determining accurate sizes.
It has a Flex-boning technology that serves the function of a waist cincher or a corset.
It has waist trimmer belt that is stretchable enough to reach fats in your abs to speed up calorie
It consists of an easy-to-adjust waist trimmer band that provides proper support to your waist.
It is made of neoprene fabrics that are comfy to wear and adjustable.
It is 100% latex-free.
Pros
Just like the previously discussed products, it also comes with its own set of helpful advantages.
It speeds up sweating, so you can lose weight quicker.
Its features aid in the proper correction of posture, elimination of lower back pain, and protection from injuries.
It is an ideal garment for your physical activities.
It cuts down 3-5 inches from your waist, and gives shape to it.
It makes your tummy flat.
It burns fats faster.
It controls your waist firmly, so you can achieve the hourglass curves you desire.
It is ideal for women who have just given birth.
It supports your sides and backs as you do your workout.
It is a nice garment for women who have lower back health issues.
It consists of a revolutionary design that decreases risks of injury.
It is non-irritant.
It has an easy-to-clean feature, and fits nicely to your body.
Cons
In spite of its helpful advantages, it also has a few disadvantages according to previous users.
Inaccurate sizes.
It is a bit expensive than other waist trainer belts.
Uncomfortable waistband.
It has not been proven yet that it gives proper support to the spine.
It does not conceal a bulging
Summary
Though this product comes with some major drawbacks, it is still considered as one of the top waist trainer belts in the market due to its helpful features—so it is still worth a try.
Read the Full Review      Buy Now on Amazon
Colombian Latex Waist Cincher Waist Trainer
Made from Colombia, this latex waist cincher trainer trimmer is another must-try weight loss garment. It offers faster results with the help of its nice features. It has also been tried and tested by its manufacturer who has already been in the business for more than 2 decades now.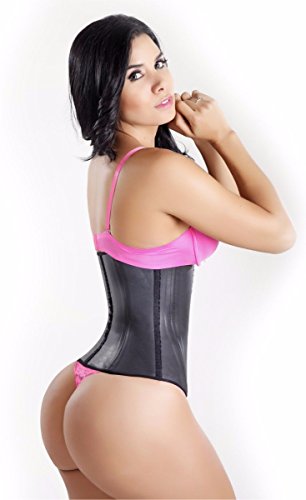 Features
With its good reputation, this product, unsurprisingly boasts of amazing features.
It is made in Colombia.
It cuts away three inches from your waist over a shorter span of time.
It has a flexible boning structure that helps in correcting your posture.
It consists of 3 hook rows to help you adjust the size of the waist cincher trimmer according to the pressure of you want.
It has an inner layer that has the ability to absorb sweat, so you'll feel dry on the outside.
Pros
Given its amazing features, it is natural that this product comes with a lot of remarkable advantages.
Its manufacturer in Colombia has been making waist cincher for more than 2 decades..
It is designed to last longer than other waist cinchers in the market.
It is made of latex that is why it is safe for your body.
It is quite sturdy that is why it can also be utilized as a boned waist training corset.
It can also be used as a waist training belt or waistband.
If used as a waist trimmer, it can come under regular clothes, and remain invisible.
Cons
Though it appears to be a perfect product for you, it also comes with a minor drawback which does not really affect its performance.
Because its core is made of latex, its odor is repulsive to others.
Summary
This product is loved by many women, because of its durability and efficiency in providing positive results to their bodies. It is thereby recommended that you consider it as one of your top choices when it comes to waist trainers.
Read the Full Review      Buy Now on Amazon
Verdict
While it may seem to you that all the above-mentioned products are equal and the same – because they possess almost the same features, advantages and disadvantages, it is unsurprising to conclude that they are all unique in their own ways. It is true that all these products trim down waistlines, flatten bellies, conceal bulges, make you look thinner instantly, and contour your body—but each of them excels in different areas.
If you are looking for a waist cincher that serves as a waist cincher, corset and body shaper, your best bet would be the Eleady Women's Underbust Corset Waist Trainer. Its features are rated as the best among the other 4 products that were previously reviewed.
But if your main concern is the lasting comfort while wearing your waist cincher during your workout, you can choose between VENUZOR Waist Trainer Belt for Women; and Waist Trainer Corset Cincher Women Body Slimmer as they are the top 2 waist cinchers that you can choose from.
If you are looking for a product which is more credible because of its fewer drawbacks, you should go with the Colombian Latex Waist Cincher Waist Trainer. It only has one minor drawback – mainly due to the fact that its manufacturer has been in the industry for 2 decades now.
So, in deciding what product to choose, you should bear in mind your personal preference, purpose, and the type of result that you desire. You may find it overwhelming to choose, but you'll eventually arrive at the best decision as long as you consider all the options discussed above thoroughly.